Endorsements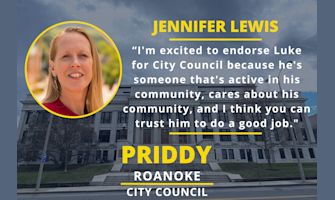 Mental health worker, community advocate, and former candidate for Congress
Jennifer Lewis
---
"
I'm excited to endorse Luke for City Council because he's someone that's active in his community, cares about his community, and I think you can trust him to do a good job for you.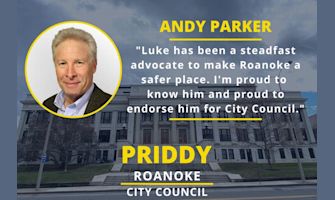 Author, activist, and Alison's Dad
Andy Parker
---
"
Luke has been a steadfast advocate to make Roanoke a safer place. I'm proud to know him and proud to endorse him for City Council.
Former Roanoke County Supervisor for the Cave Spring District and former candidate for Congress.
Charlotte Moore
---
"
Luke's focus on the future of Roanoke City will help create opportunities for our next generation. As a millennial, he understands the importance of economic growth and how it impacts a community. Luke has invested his time, energy, and resources in the Roanoke area for many years because he cares.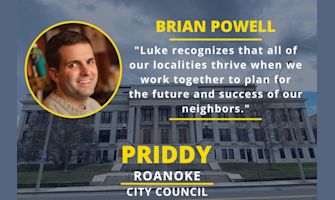 Owner of small-business, Wine Gourmet, and former candidate for Roanoke County Board of Supervisors
Brian Powell
---
"
Electing Luke Priddy is the best thing we can do for our regional economy. Luke recognizes that all of our localities thrive when we work together to plan for the future and success of our neighbors.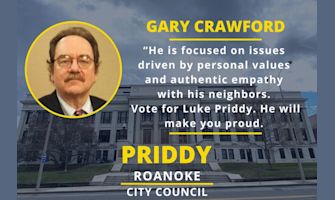 Roanoke City business owner and advocate
Gary Crawford
---
"
Luke Priddy's campaign for ... introduces a new voice to our city. He is experienced, smart, and reliable. He is focused on issues driven by personal values and authentic empathy with his neighbors. Vote for Luke Priddy. He will make you proud.